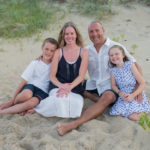 Christopher J. Bott, Doctor of Chiropractic is a father of two, who along with his wife, Jennifer, are blessed to be raising their son, Nathaniel and their daughter, Mackenzie in Ship Bottom. Dr. Bott grew up in Manahawkin attending Stafford Township Schools and graduating from Southern Regional High School.
He believes his family's involvement at St. Francis Center during his childhood and his participation in Township and high school athletics were formative in his calling to the chiropractic profession. Dr. Bott feels chiropractic promotes healing through an art, science, and philosophy most closely aligned with his core values.
Dr. Bott received his Bachelor of Science from Bloomfield College and his Doctorate of Chiropractic from New York Chiropractic College. As a chiropractor, he has served the community for more than a decade and has been in private practice since 2002.