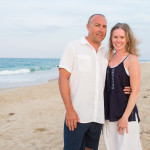 Jennifer has been an integral part of Causeway Chiropractic since its opening in 2002, since she is married to Dr. Bott.   She is currently working as the office/billing manager.   She lives in Ship Bottom with her husband and their two fun loving children, Nathaniel and Mackenzie.    Jennifer grew up in Manahawkin, attended Southern Regional High School and went on to graduate from St. Thomas Aquinas College with a degree in Elementary Education.  She taught in various school districts and grade levels for 10 years before leaving the field of education to raise her children.   Jennifer is also a Certified Personal Trainer and has offered rehabilitation classes at the office in the past.   She is very involved with the LBI School District and enjoys spending time with her family, walks on the beach and reading.   Feel free to call the office and speak with her if you have any billing questions or office concerns.
Adriana lives in Barnegat with her husband, Mirek and two beautiful daughters, Raquel and Madison.  She grew up in Roselle Park, NJ and moved to Barnegat in 2004.  She is a graduate of Roselle Park High School and attended the Fashion Institute of Technology in New York.  Her family is originally from Uruguay and she is fluent in Spanish.  Adriana's strong sense of family and community has allowed her to embrace the Causeway Chiropractic philosophy of serving others.  Adriana is proud to be part of the team at Causeway Chiropractic.
Katie – Chiropractic Assistant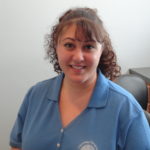 Katie grew up in Barnegat and recently moved to Waretown.  She is the proud rescue mom of two boxer/mix puppies named, Brody and Shea.  She graduated from Barnegat High School as its first class in 2008.  She received her cosmetology license in 2009.  In her spare time she likes to explore an interest in art and has completed courses at Ocean County College.  She has been a part of the Causeway Chiropractic team since 2011 and has evolved into an integral member of our staff.
Kathi – Front Desk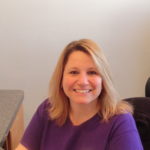 Kathi was very excited to join the staff at Causeway Chiropractic in the summer of 2013.  She has lived in Barnegat since 1997 and enjoys spending time with her three children while watching them participate in sports and other activities.  They recently adopted a puppy, named Penny, who has been a wonderful addition to their family.  Kathi has been a patient of Dr. Bott's since 1998 and continued her care at Causeway Chiropractic when it opened in 2002.  Kathy's optimistic attitude and warm personality is a natural match for our office.  She looks forward to sharing her Causeway Chiropractic experience and assisting you on your journey.